History of The Brighton Brunswick CC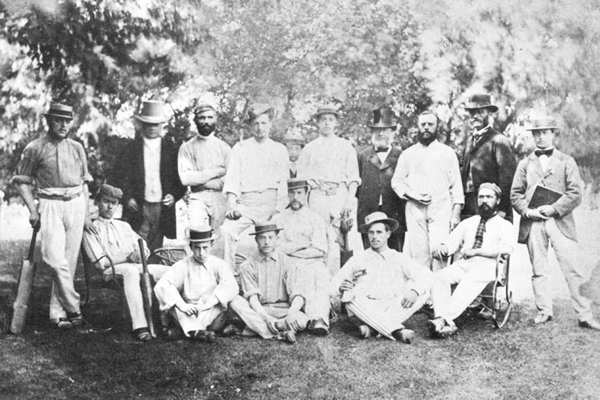 In the late 19th century the leisured and moneyed classes, having laboured in developing their skills and industrial might the world over, looked to certain areas of sport to fulfil their needs as outlets for their boundless energy hitherto consumed in the furtherance of profit and power.
Throughout the previous two hundred years the aristocracy and landed gentry had used newly invented and developed games as vehicles for using up leisure time and gambling. The two greatest gambling sports were of course Horse-Racing and Cricket.
The Brighton Brunswick was formed at a time when the game had ceased to be merely the sport of the great and the good. It had caught the public imagination as a spectator sport and become the great summer game we know and love. In this climate the Brunswick Club started its life playing most of its matches on a ground close to the sea end of what is now Fourth Avenue in Hove. Members, apart from those who already played for the County were drawn from the professional and business classes that lived in the Brighton area in general and more specifically near the magnificent new housing developments centred on Brunswick and Palmiera Squares. These men had the foresight to see that a club close to the County both geographically and physically was needed as a "nursery" (there were no county 2nd X1s or "club and ground" sides in those days) and practice source as well as giving local talented players the chance to learn from some of the Sussex greats, many of whom were to play for the Brunswick.
The Brighton Brunswick's close association with the County started before and during the Club`s early years. The County played many of its games at " The Cricket Ground by the Sea" and so good were the wickets on which they played, that when the County acquired their new ground in Eaton Road, many of the turfs from Fourth Avenue were used in creating their new square!
Inevitably, the value of land in the growing town of Hove was such that the Fourth Avenue ground was sold and The Brunswick became a "wandering" Club. Having said that, the County Ground has always historically been our "headquarters " and indeed, up to the second world war, we played as many as a dozen matches there during a season.
Among our early founder members including George Goldsmith, our first captain and Alfred Godden, our first secretary was Walter "Punter" Humphreys who played for Brunswick, Sussex and England. Our first Test player, with the wondrous achievement of getting two hat-tricks against Australia and as an " underarm lob bowler" to boot! Another founder member was Joseph Herbert who was the grandfather of the great Percy Fender, of whom we shall write more as the history progresses!
The period between the wars was probably the time when more of the Game`s "Greats" played for us than any other. Even before then we saw great names in the scorebooks. The first overseas player must have been Billy Murdoch who also captained Sussex as well as Australia and still found time for many games with the Brunswick. In 1905 Another overseas who turned out for us during his qualifying weeks for the County was Bob Dwyer was a good player, quick seamer and useful bat but what stood him out from the crowd were his Christian names: Placid, Querk, Carrington, Bernard, Barrington, Robert, Ernest. Could have been a problem for the scorers! 1905 saw The Great Percy George Fender playing for Brunswick at Steyning, along with his uncles Sydney and Herbert. Percy went on to greatness both as a Test and as captain of Surrey, whom he joined after a couple of seasons with Sussex – the best captain of his era - and said to have been " The best captain never to have captained England". An added claim to fame was scoring the then fastest century in first class cricket (1920, 35 min.). A great "Brunswicker," who was later to become our President.
Some Brunswick facts taken from our records:
3rd. Earl Sheffield (of "Sheffield Shield" fame) was president of both Brunswick and Sussex.
W. Newnham was connected with Brunswick for over fifty years and assisted Sussex as cricket manager, captain and secretary for fifty two years.
The most celebrated cricketer of the Brunswick`s early years was unquestionably Walter (punter) Humphreys. He played for Brunswick nine years before he became a "Lob" bowler which almost immediately made him a celebrity with a hat-trick against the Australians at Brighton in 1880, his distinguished victims were: Groube, A C Bannerman and Blackham. Then, in 1884 he got another hat-trick against the Australians! He was the first bowler to take 100 wickets in a season for Sussex, taking 143 1n 1893. Born in Southsea on 28th October 1849 he was only three weeks old when the familyemigrated to Sussex and he made his first Brunswick appearance in 1871, the same year as his debut for the County. The Author A J Gaston wrote "No record of Walter Humphreys would be complete without mentioning his very fine cricket for his club the celebrated Brighton Brunswick", where his most successful years with bat & ball were between 1875 and 1887 when he averaged 40 runs per innings and took over 400 wickets at an average of 8 runs per wicket. Against Ardingly college he took all ten wickets with his lobs and also scored 75n.o. At Hastings he dismissed nine batsmen and scored 71. In 1888 he took all 10 wickets against Lower Clapton for 14 runs and in 1889 he took all ten wickets against the famous Yarra Club. Records show he also scored centuries for us against Croydon, Reigate Priory, Eastbourne and Steyning.
Bob Dwyer, mentioned in the earlier history notes, in 1905 tokk over 100 wickets for Brunswick at an average of 7.4 each
A Collins and H. R. Butt (both Brunswick stalwarts) put on 96 for the 10th wicket for Sussex V`s MCC at Lords in 1895.
Longest serving players for BBCC include W H Dudney (54yrs); Kieth Wilson (51yrs) and Tony Millard (48yrs). All of these continued to serve the Club as officers for many more.
Taken from Dorking CC Records:
Dorking v Brighton Brunswick at Pixham Lane, Dorking
Monday 5th July 1886
1st Innings of Brighton Brunswick:
F G Pearson Bowled English 13
G Humphreys Not Out 210
W H Dudney Bowled Trower 5
W Clements Ct. Ivesy B. English 33
C M Perkins Bowled Nightingale 165
Extras 23
TOTAL (4 Wkts.) 449
DORKING DID NOT BAT!!
When this match was played English and Trower were both redoubtable bowlers – Ted English was on trial for Surrey and later played for Hampshire. He died in 1966 aged 102 There is no trace of another game between the two clubs!
W L (Billy) Murdoch of Brunswick, Sussex and Australia (Whom he captained) scored 84 n.o. in his first innings for Sussex.
George Goldsmith, a founder member of the Brunswick was its Secretary and went on to become secretary of SCCC
G H A Arlington had an average of 376 per innings for Brunswick in 1897.
In 1905 in a game against London County at Crystal Palace, our opponents included W.G. Grace and W. Murdoch.
In 1905 the "Brunswick Song", written by Mr. F Edmonds was sung by Mr. A.J.Marks, at the Annual Dinner.